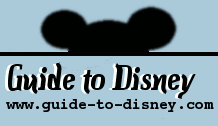 Monday, September 25, 2023
Site Map

Filter Results

All the pages currently on the Guide to Disney are listed in the Site Map below. You may find it easier to navigate by using the filters below to determine the types of pages to be displayed.

Information
Attractions
Restaurants
Shops
Entertainment
Character Greeting
Photo Points
Transportation

Folder Toggles

By clicking on the and within the map you can open and close the corresponding branches of the tree to make browsing easier. By default all the branches of the tree are open, but the shortcuts below can be used to close all the folders or open them all.